Think Clean, Think Safe. Think Sæplast PE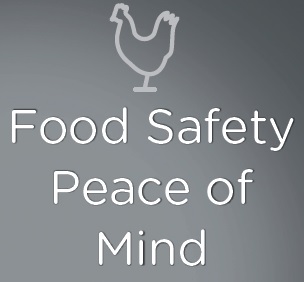 Food Safety Peace of Mind
We at Sæplast have designed the most rugged and hygienic plastic containers for your processing floor. Like all Sæplast tubs, the 460 PE, 660 PE, 875 PE and 1050FE PE containers are manufactured using 100% food grade polyethylene (PE) and our Sæplast PE containers are ideal for supply chain handling in the protein and animal by-product industries. With a one piece, seamless triple-wall design and a closed cell core the Sæplast PE containers can handle a beating! Our Sæplast PE containers last on average 5-7 times longer than single wall bins.
Stainless steel, corrugated cardboard and single wall plastic bins can harbor harmful bacterial growth and they are very unsafe for employees due to splintering, metal tearing, and boxes collapsing. As a result, these products are not the best food safety option for your protein handling needs.
Our one-piece Sæplast PE containers are easy to clean, maintain and repair. The solid inner core prevents absorption of liquid and the tubs do not have easily broken joints or hard-to-clean crevasses.
Sæplast PE is your solution for a low cost supply chain container that is safe for your protein product and safe for your employees.
Furthermore, smooth wall technology promotes easy cleaning/sanitation (reduction in sanitation/wash time, water, sewer, chemicals). Constructed from 100% virgin resin for direct food contact - in many cases you can eliminate the poly liners thus creating more savings.
Book a consultation with our sales team and we will assist you in finding the right tub to fit your needs.